Art Basel
Basel, Switzerland
Andreas Schulze, Braco Dimitrijević, David Hockney, Francesco Clemente, Melike Kara, Nate Lowman, Robert Rauschenberg
This time in our series of reviews we visit an online exhibition that never existed in physical reality through a fictive three-dimensional model created by Walter's Cube. This technological innovation lets the visitors enjoy the artworks in a proportionally scaled virtual twin in real time, where walking around and interacting grows into an immersive experience thanks to the Online Viewing Room.
It feels like a breath of fresh air to finally see the art world come alive again after the pandemic. Art Basel 2021 was the first major European art fair to open its gates since the lockdown in March 2020, and according to the almost unanimous opinion of the dealers attending, it was a huge success. As Iwan Wirth, the President and Co-Founder of Hauser & Wirth put it,
'This year's Art Basel brought out the best in everyone. Galleries, artists and collectors all came together with great enthusiasm and energy. Above all the fair organizers deserve enormous congratulations for providing an event that felt grounded and right amid so much uncertainty. We were so glad to be here.'
While it's a relief to get back to the old ways, some think a change is on the horizon – meaning there's going to be a very distinctive Before and After regarding Covid when it comes to the business model of galleries. Just look at the numbers: before 2020, fairs accounted for nearly 50% of dealers' annual sales, according to the Art Basel and UBS Global Art Market Report. In 2020, it was only 13%. Another percentage to let you see the bigger picture – the global market for art and antiquities made 22% less than a year before. That's the biggest loss since 2009.
'Art fairs will play a lesser part in our business model.'

Iwan Wirth of Hauser & Wirth
What's the meaning of all this? Dealers want to attend art fairs – but not as many as Before. Dominique Lévy, the Co-Founder of Lévy Gorvy, said that
'You can't expect people to travel as easily, certainly in the near future – and that might become a change of habit. We can't jump on planes so easily, because of the time and money and health toll. We will absolutely not be going to as many fairs. We were already questioning it before the pandemic.'
Instead, dealers aim to meet collectors at the art fairs to create connections – and then keep in touch with them in a different form.
That's what the hybrid art world, or the 'phygital future', as Iwan Wirth calls it with a little wordplay on digital and physical, is about – a combination of physical and online exhibitions, the product of art space digitization that's designed to make digital twins of galleries. The result is a safe and 24/7 accessible way of seeing and buying art, with the option to keep the presentation and communication personal despite the geographical distances.
'Fairs are still essential, but there is a question over which ones to keep participating in. Would I still want to travel eight times a year? I'll have to be selective. There are life considerations which I did not take account of before Covid – you have to establish your priorities.'

Franck Prazan of Applicat-Prazan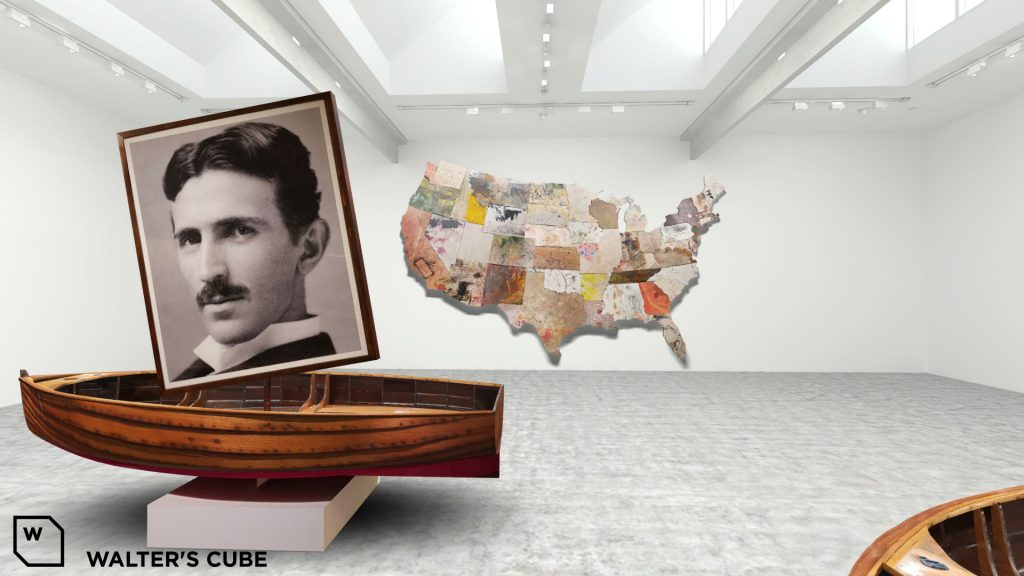 Since the online booths of Art Basel closed with the physical art fair, we at Walter's Cube took it upon ourselves to create a 3D model and fill it with some of the highlights from Art Basel Unlimited. Our goal was to give a taste of the experience to those who missed the event either because of travel restrictions or just being understandably cautious, and to show people what the hybrid art world looks and feels like.
In the fictive space we modelled specifically for this, you can see 7 artworks from 7 artists represented by 7 galleries. But there are two that can't go unmentioned.
First, Robert Rauschenberg's Rollings (part of the Salvage series) should get an honorable mention for the whopping $4.5 million it was sold for on the opening day by Thaddaeus Ropac. It is a canvas painted and silkscreened with photographs, which has the effect of 'many television sets working simultaneously, and all tuned differently', according to John Cage.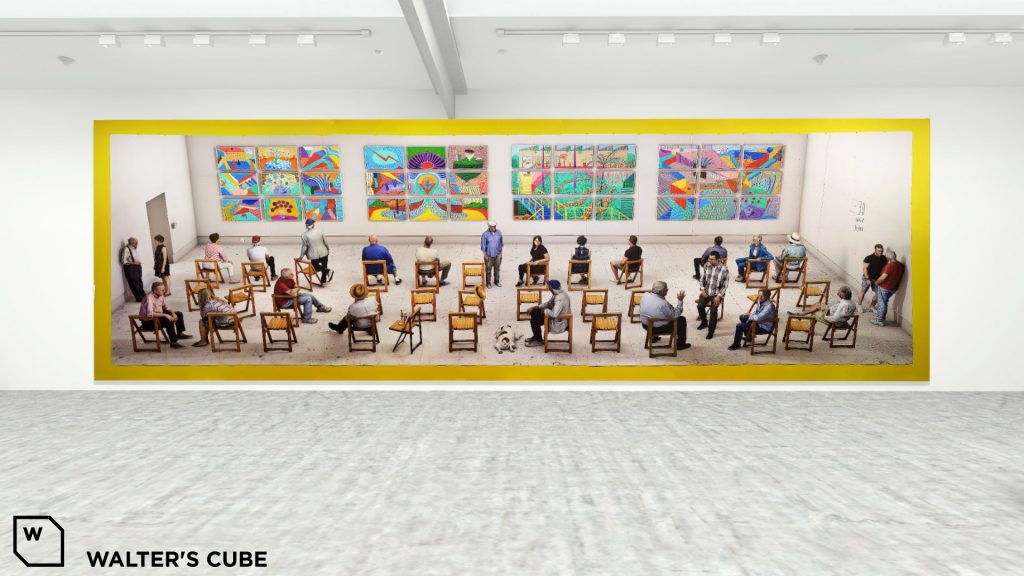 Second, David Hockney's Pictures at an Exhibition displayed by Gray, because Hockney never stopped embracing new technologies throughout his long career. This is his first 'photographic drawing' work – a method that combines three-dimensional photography and a modeling software – printed in life-size. If a method is good enough for David Hockney to create art, it must be good enough to present it.
If you want to compare your thoughts with our reviewer's, who only saw the digitized version of the exhibition, you can visit the 3D model here.