In 1972 Gerhard Richter was the sole artist representing the Federal Republic of Germany at the Venice Biennale.For the central hall of the exhibition pavilion, he painted a series of 48 portraits. Years later he explained that he had long...
For nearly 60 years, David Hockney (British, born 1937) has pursued a singular career with a love for painting and its intrinsic challenges. This major retrospective—the exhibition's only North American venue—honors the artist in his 80th year by presenting his...
"I love repetition. Repetitions turn time into a place, turn the days into a space. Repetitions form the foreground, middle-ground, and background of the picture plane. And inside this plane, the lattice work of routine stills. It's as if time...
'Geta Brătescu. The Leaps of Aesop' is the first New York solo presentation devoted to the 91 year-old forerunner in the field of Romanian Conceptualism. Her diverse oeuvre – comprising drawing, collage, engraving, textiles, and photography, as well as experimental...
Soon after acb Gallery closed the exhibition celebrating Imre Bak's 80th birthday on 2020.03.08. and the Covid-19 coronavirus grew into a pandemic causing a global lockdown, Bak started to work on a new series. Bak choose to create small collage...
56 HENRY is pleased to present Paintings From the Old World, an exhibition of new work by Rome-based artist Gianni Politi. The show, comprised of six unique shirts made from painted canvas, will be on view from January 13 through...
David Zwirner is pleased to present two major new works in forged steel by Richard Serra. Recent drawings by the artist will be on view in the gallery's second floor exhibition spaces. Richard Serra's (b. 1938) first solo exhibitions were...
In the MdbK, the current art development from Leipzig constitutes an important focus in the collection. Traditionally, artists who have been trained at the Hochschule für Grafik und Buchkunst Leipzig (HGB) (Academy of Fine Arts Leipzig) or who work in...
Selected online viewing rooms
Selected online viewing rooms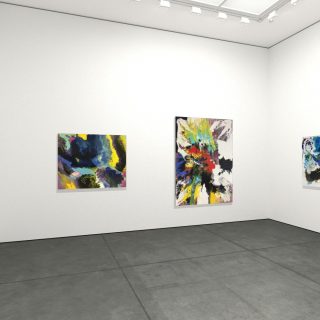 The current body of work is a group of paintings that employ a wide variety of materials and processes. These new paintings grow out of an earlier series that was inspired by photographs of galaxies and nebulae seen through the...
La Galerie Ariane C-Y présente une sélection d'œuvres de Guillaume Castel, Rosa Maria Unda Souki et William Wright. Qu'il s'agisse d'œuvres déjà exposées par des institutions (Dulse, Guillaume Castel) ou d'œuvres présentées en exclusivité à Art Paris (nouvelles séries de...