The 3D model of David Nolan Gallery's exhibition titled This Synthetic Moment from Liz Johnson Artur, James Barnor, Kwame Brathwaite, David Hartt ,Zoe Leonard, and Christopher Williams made by Walter's Cube
Every gallery, whether it is the biggest in the world or the smallest in your city, dreams about having more visitors therefore meeting more collectors. To do that, they not only have to be up to the everchanging standards, but be one step ahead of the competition.
The Market
Let's see those standards: according to the 2021 Hiscox Online Art Trade Report, the online art market trebled its size in the last 18 months (mostly due to the pandemic), and by the end of 2021, it could represent nearly 25% of the overall market. That means every 4th artwork is sold online. We are talking about an industry worth $13.5 billion every year.
The Buyers
This is not a big surprise, as 50% of buyers who spend over $100,000 per year on art said in 2019(!), way before the lockdowns, that they visit online platforms multiple times a week, for an average of 10–30 minutes. They must, as 21% of respondents claimed to actually prefer buying art online to buying it in a physical gallery. Partly because they can choose from a bigger selection, as geographical distances simply don't exist on the Internet, partly because it is more convenient.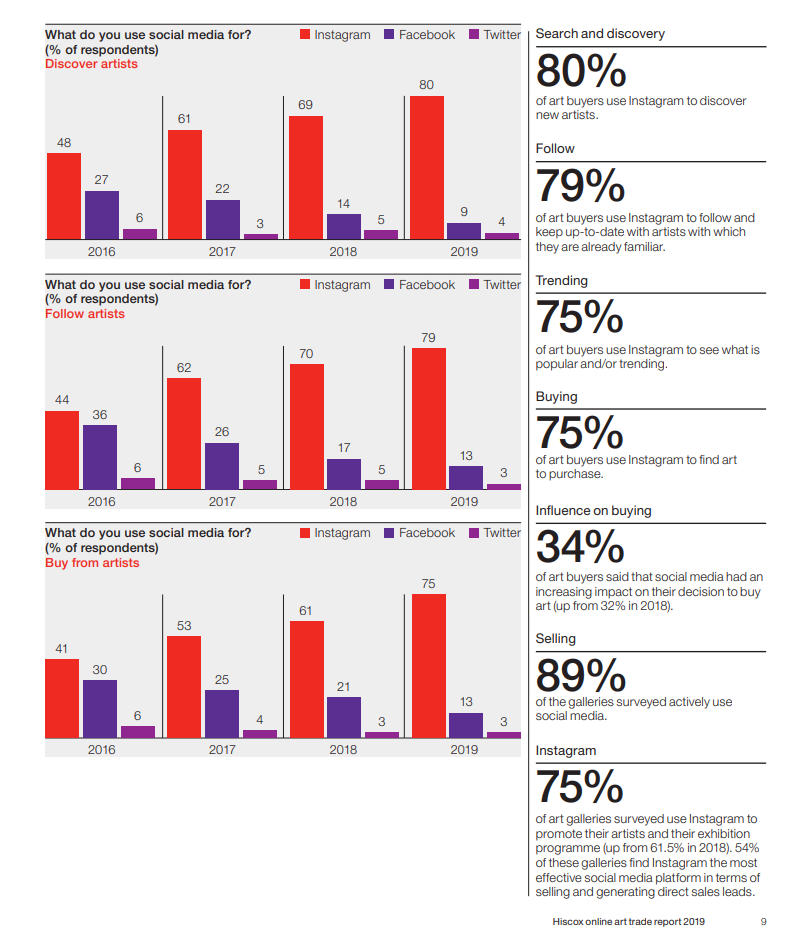 The Sellers
So if you don't want to miss out on one fifth of your overall sales, it's a must to have an online gallery. But that only puts you in the middle, since more than half of the dealers attending the physical markets if 2021 said that they are seriously considering switching to online fairs for various reasons. Some are cautious of their health, some want to be more environmentally conscious by flying less, some want to save on the fees of renting a booth.
Institutions are rapidly relocating to the World Wide Web, so if you wish to stand out from the competition, you have to go that extra mile.
As every sale in every industry, yours depends heavily on marketing too. But luckily, you don't have to spend a fortune on it – the most important part you can do for yourself with the budget of $0. Here's how.
Your Own Site
After you got your digital twin from Walter's Cube, there are numerous things you can do to attract visitors with it. If you don't know what a digital twin is, read this article. If you know, but don't have one yet, you can get one here.
The first and most logical thing to do is to embed your online exhibition into your website with the Magic Link. To copy that link into a html box takes about two seconds and zero effort, even from someone who never cared for computers, while making sure your show is available 24/7 from anywhere in the world.
But don't stop here, as websites have a limited reach – this way you're likely to deliver your call to action to only those who keep coming back regularly already.
Newsletters
Try informing your subscribers by sending out newsletters to get to those who are interested but haven't checked your site in a while. Announce your new online exhibition and make it visually appealing – it's easier than you imagine with the built-in tools of the Online Viewing Room.
Come up with a catchy headline, take a picture or a video with the tools you can use as illustration (you can turn those videos into gifs with online converters for free if needed, like this one). Then write a paragraph about the show or an interesting one-liner. Voilà, you have your weekly content!
Your Online Viewing Room can be changed again and again, meaning you can have multiple shows – so you won't ever run out of ways to engage with your collectors.
Social Media
But whatever you do, don't forget that the real Holy Grail of getting in touch with new potential buyers is social media.
First and foremost, Instagram
According to a survey, 80% of collectors use Instagram to discover new artists, and 75% of them use the platform to find out what's popular and trending. Create a post that trends – you get to meet them.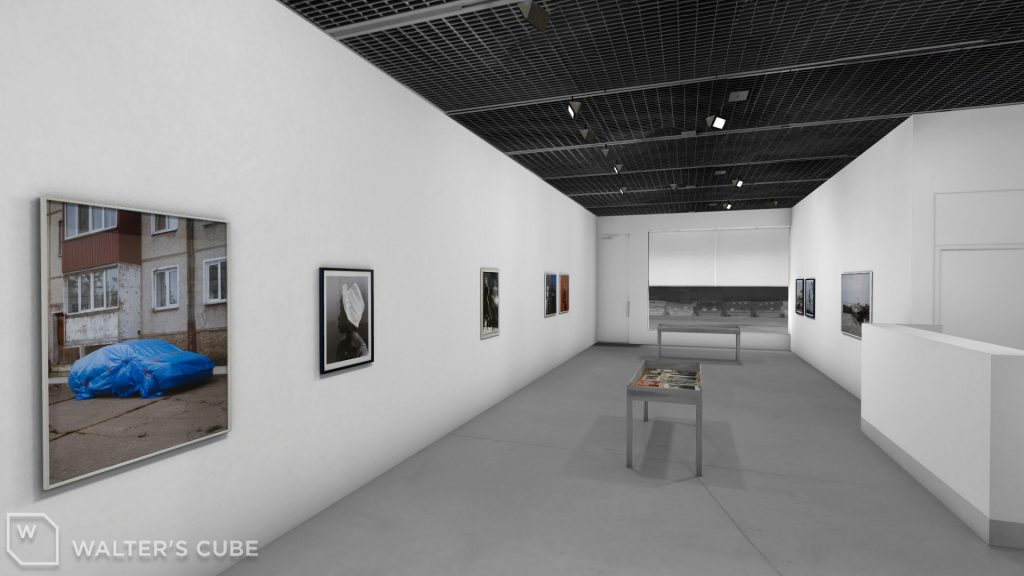 Here are our tips to make a post that's going to get shares:
1. Choose your subject carefully
Try something that people are already interested in. Check what's trending and create something along those lines. Think ahead: if an event is coming up, you could promote yourself using that.
2. Really lay into the visual part
Make sure your picture or video is interesting – and good quality. A low resolution file can hurt you more than you would think. If you already sent a newsletter, you can always repurpose those pictures or captions.
3. Consider your target
There are many studies out there about how viewers engage with social media platforms – the most important bit of information to take away from those is their attention span. Wibbitz recommends making videos no longer than 15 seconds. The same goes to the text you want them to read: don't write a novel.
4. Hashtags
But write hashtags! It makes it so much easier to find your content in search engines. While it's a big temptation to hoard them, don't go overboard and always stay true to your topic with them.
5. Use geolocation
The Internet has no borders, and people like that. They tend to browse about cities they want to visit or visited a long time ago, and by using geolocation your content can pop up in their search engines. Take advantage of that!
Then Facebook
Although most of the art world gets its inspiration from Instagram, don't forget about Facebook either. While Instagram is great to get the news out – a good Insta Story can go a long way -, Facebook's event calendar makes it impossible to forget something.
You can use that to create an event for the opening of your online exhibition, maybe even start a countdown to give it an air of importance. The best part: Facebook will automatically remind everyone invited or interested to check out the show – you don't have to send follow-ups.
And keep on repurposing. The picture in your Instagram post can be the cover of your Facebook event, the gif from your newsletter can be the video in your Facebook post. Hashtags work basically anywhere, and once a caption is written and proved captivating, use it whenever you can, like it's your catch-phrase.
Lastly, Twitter
The art world is not really into Twitter, but you can never know where your collector comes from. If it's good enough for Elon Musk to sell NFTs, it is good enough for you.
The key there is to be short and sweet – and not only because of the 280 character limit. Instead of lenghty paragraphs, choose a short video to tell your story.
Of course, you can always choose to simply share your exhibition on social media without taking screenshots or recording videos. You can find the buttons for that under your online exhibition when you use the Magic Link.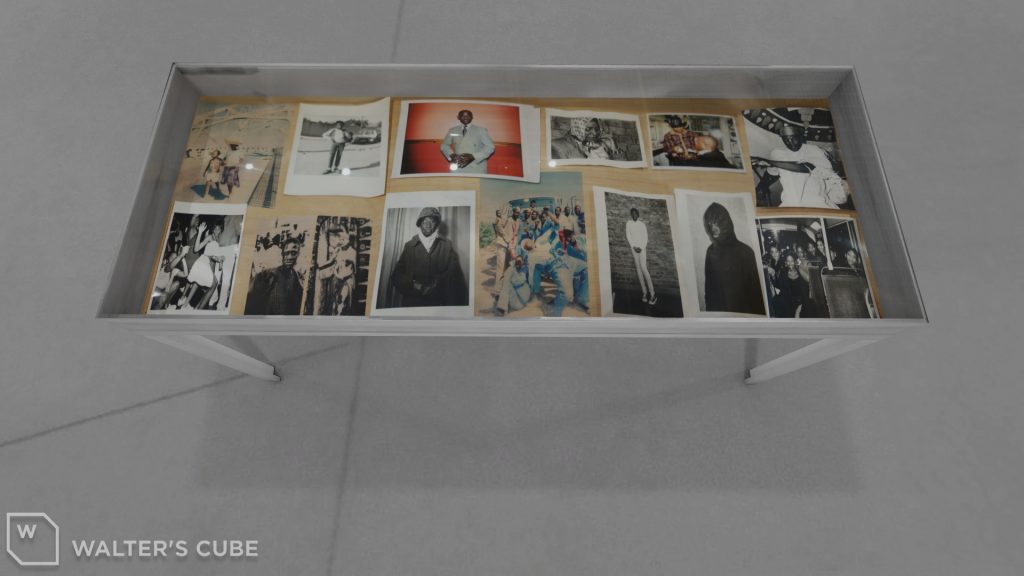 The Takeaway
If you will remember one sentence after reading this list, may it be this: it's one thing to be present, and another to be represented. Your work is not done after joining the hybrid art world with your online gallery, you have to keep creating content to make sure you are seen. We are here to help, but there are things only you can do.
To make following the tips easier, we created a to-do list for you. Download it from here:
The thumbnail is a screenshot from the 3D model of David Nolan Gallery's exhibition titled This Synthetic Moment from Liz Johnson Artur, James Barnor, Kwame Brathwaite, David Hartt, Zoe Leonard, and Christopher Williams made by Walter's Cube. Available on the Online Viewing Room.