Klowden Mann is pleased to present our third solo exhibition with Los Angeles-based artist Rodrigo Valenzuela, Journeyman. The exhibition features a series of eight photogravures from Valenzuela's new photographic series, Stature, as well as ceramic sculptural works embedded into a...
For nearly 60 years, David Hockney (British, born 1937) has pursued a singular career with a love for painting and its intrinsic challenges. This major retrospective—the exhibition's only North American venue—honors the artist in his 80th year by presenting his...
For his first solo exhibition with Lisson New York, Ai Weiwei populates the gallery with felled, cast-iron tree trunks, nearly sixteen feet in length, and a series of iron root sculptures set against the backdrop of a new wallpaper installation. Situated among...
Infamous is a visual exploration of the long history of deeply rooted racism in the United States. Throughout his illustrious career, Andres Serrano has directly confronted the zeitgeist with provocative works. In this exhibition of over 30 photographs of racist...
Galerie Jochen Hempel is pleased to present the exhibition walking through the fields of history... and to announce the reopening of the Leipzig gallery spaces. Walking through the fields of history… is an exhibition of a collection. A collection of...
Klowden Mann is pleased to present our third solo exhibition with Los Angeles-based artist Rodrigo Valenzuela, Journeyman. The exhibition features a series of eight photogravures from Valenzuela's new photographic series, Stature, as well as ceramic sculptural works embedded into a...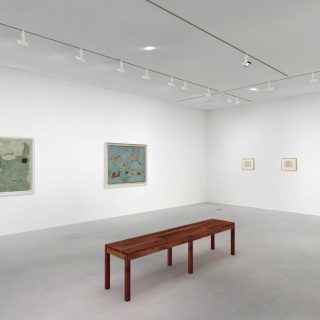 While Gorky's process of intense contemplation and refinement was never casual, the resulting works brim with a sense of immediacy, chance, and spontaneity. We will present a newly discovered, never before exhibited, painting by Arshile Gorky in our New York,...
Fredericks & Freiser is pleased to announce "He Demon," an exhibition of new paintings by Gary Panter. Widely recognized as one of the most influential figures of the Los Angeles punk aesthetic, Panter's "punk, nuclear, hillbilly" sensibility has been a...
Art Bond NY is participating in Art Miami with a virtual installation and a physical exhibition in Chelsea. In order to provide a safe environment for our staff and the public, a limited number of visitors will be permitted within...
Group Show : Caroline Denervaud, B.D. Graft and Maximilien Pellet Inaugurated in 2016 in the heart of Marseille's antiques district, Double V Gallery is a unique exhibition space where different art forms, generations and celebrities come together. Its director Nicolas...
This exhibition of Water + Light portrays the unique artistry of water in its collaborations with light —from jazz ripples to sea galaxies, from cyanotype to impressionism, from gentlest serenity to wildest tumult. I hope you'll stroll along all five...
Gathered under one roof is one of the largest collections ever to be assembled of watercolors, drawings, lithographs, and woodcuts by M.C. Escher. The works of this renown and late Dutch artist are now considered a national treasure by a...
Located in the old town of Geneva, Gowen Contemporary represents international emerging and mid-career artists and is known for its rich exhibition program and participation in renowned international art fairs. The gallery was originally formed as "Faye Fleming & Partner"...
Through this call to "open your eyes", our booth aims at being a window open on the world. Drawing the attention of the viewer on topical issues, it is conceived like an invitation to introspection, awareness and challenge our environment....
La Forest Divonne Gallery gives carte blanche to Elsa&Johanna with a new immersive experience for the "Regard sur la scène française", where the unusual environment question notions of truth and artifice like their works. Three long-time artists represented by the...
Burgess Modern & Contemporary provides curatorial expertise and presents specialized art projects to assist discerning collectors. Featured at the Hamptons Virtual Art Fair are Jedd Novatt, with works from the Kármán Line and Chaos series, Tom Wesselmann with iconic Pop...
Cynthia Corbett Gallery is delighted to be back in the pulsating Hamptons art fair scene which has gone online with the 2020 Hamptons Virtual Art Fair. This exclusive curation showcases the long-standing gallery artists: Andy Burgess, Deborah Azzopardi, Fabiano Parisi,...
« Paris mon amour » is a project imagined and concieved specifically for Art Paris 2020. We will present a set of artworks chosen for their link with Paris and love. « Paris mon amour » is a project imagined...
Van Rensburg Galleries features 4 artists whose work explores a different aspect of the theme 'Between Two Worlds'. This interpretation of the current global event we find ourselves in has the artists exploring their own experience of enforced isolation, illusion...
Welcome to SCOPE Immersive | Online Viewing Room! We thank you for traveling great distances from across the globe to be first on line for the show! Please be patient as the download may take 2- 5 minutes depending on...
'Have sketchbook, will travel' is a modified phrase that will be familiar to some, Michael John Hunt is always on the lookout for subject matter and it is usually readily available - not always in the obvious places. In the...
La quotidienne is not the title of a project, it is merely an introduction and a description of my art. I have never made paintings based on a certain proposition, even though this method is considered contemporary. I am sure...
In his sculptures Anton Bakker fixes points in space that, as the eye connects them, revealharmonious alignments as three-dimensional paths.These paths represent a range of mathematical themes: lines, curves, knots, spirals, Möbiusstrips, optical illusions, and fractals.Anton Bakker's sculptures can be...
The distinctive signs of Fremin Gallery are proposals that invite to think about the society and the individual, maintaining a close look to the soulful engagement of each artist's approach to their medium. There is strong cross-pollination between subjects ranging...
The artists shows their interest in drawing. Drawing that creates images and models space, that archives traces, places obstacles and builds challenges. The drawing that comes into direct contact with the body (B. Petkova) or with what is left of...
La Galerie Ariane C-Y présente une sélection d'œuvres de Guillaume Castel, Rosa Maria Unda Souki et William Wright. Qu'il s'agisse d'œuvres déjà exposées par des institutions (Dulse, Guillaume Castel) ou d'œuvres présentées en exclusivité à Art Paris (nouvelles séries de...
2020 Online Viewing Room | All Rights Reserved | 354 Bowery New York, NY 10003 | hello@onlineviewingroom.com