This is Robin Lowe's third exhibition at Lennon, Weinberg. The first, in 2008, was comprised of a cycle of narrative paintings loosely based on a cold war era post-apocalyptic novel, On the Beach. Set on the southern coast of Australia,...
I like the moment when the viewer approaches my painting and touches the surface of the canvas to make sure that it's not a printout or a sculpture. What is important to me is illusion — painting whose reception is...
David Nolan Gallery is pleased to present This Synthetic Moment, curated by David Hartt, on view January 18 through March 10, 2018. A picture of one woman looking at another, a portrait of a man holding a camera, a portrait...
Neo Rauch, the Leipzig-born artist who studied at the Academy of Fine Arts Leipzig (HGB) with Arno Rink, has left a mark on art. With his figurative paintings, the international art world was his oyster in the 1990s. Yet at...
Leica 6×7 Gallery Warsaw invites you on February 15 at 6 PM for the opening of Sonia Szóstak's exhibition "Fortune teller told me". This is the first individual show of this artist in Warsaw. The photographer will present a selection...
303 Gallery is pleased to announce our first exhibition of new work by Sam Falls. Sublimating the natural world in works that both defy and embrace the basic functions of art, Falls' works record specific moments in time as well...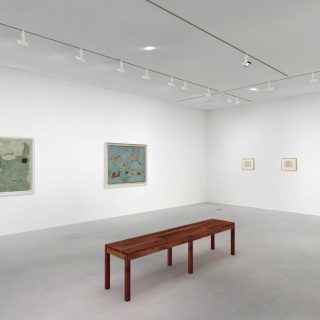 While Gorky's process of intense contemplation and refinement was never casual, the resulting works brim with a sense of immediacy, chance, and spontaneity. We will present a newly discovered, never before exhibited, painting by Arshile Gorky in our New York,...
'Geta Brătescu. The Leaps of Aesop' is the first New York solo presentation devoted to the 91 year-old forerunner in the field of Romanian Conceptualism. Her diverse oeuvre – comprising drawing, collage, engraving, textiles, and photography, as well as experimental...
In the MdbK, the current art development from Leipzig constitutes an important focus in the collection. Traditionally, artists who have been trained at the Hochschule für Grafik und Buchkunst Leipzig (HGB) (Academy of Fine Arts Leipzig) or who work in...
This exhibition of Water + Light portrays the unique artistry of water in its collaborations with light —from jazz ripples to sea galaxies, from cyanotype to impressionism, from gentlest serenity to wildest tumult. I hope you'll stroll along all five...
2020 Online Viewing Room | All Rights Reserved | 354 Bowery New York, NY 10003 | hello@onlineviewingroom.com